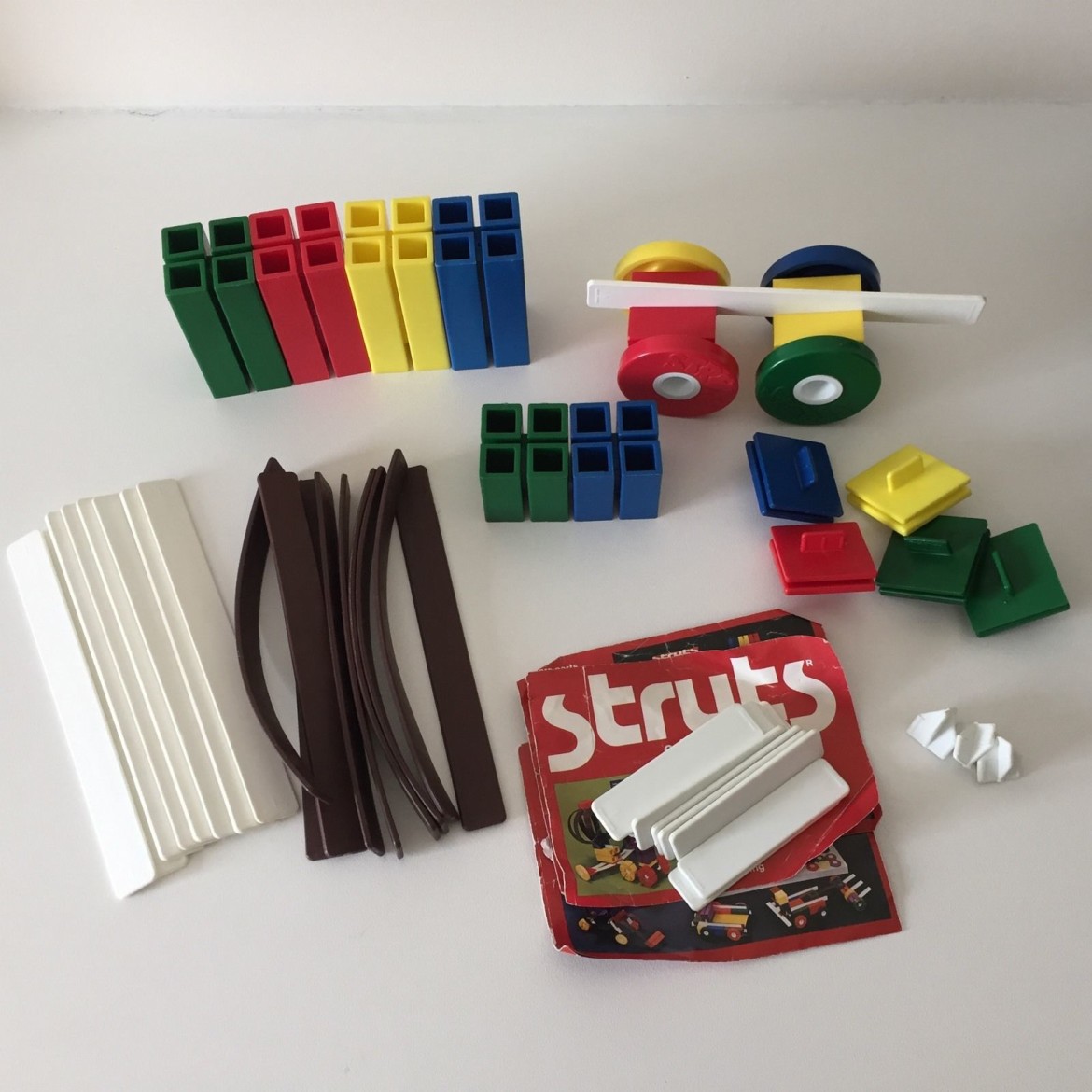 Ever remember something from your childhood that no one else knows? Struts is a bit like that.
Struts is a plastic construction toy that was manufactured in South Australia in the late 1970s and early 1980s. Billed as an educational toy, Struts won a number of design awards including 1978 Australian Toy of the Year, 1981 Australian Toy of the Year and 1982 Australian Toy of the Year. However despite Struts' critical acclaim, the toy seems to have vanished from the collective consciousness. Lists of construction toys include lego, Mechano, Fischertechnic and many others, but Struts is always missing.
It seems likely that it's limited Australian market and short lifespan mean that the toy probably never reached America or Europe in any quantity, and so languishes forgotten in boxes and sheds of Australia. Until now! This page contains all the information you've ever wanted on Struts educational toy, and probably a bit more. Sourced from images found on auction sites and from original booklets I think I can answer pretty much all your questions.
If you've found this post you're probably a construction toy enthusiast, or Australian child of the 70's and 80's like myself. Like me you probably searched Google, trawled through Wikipedia and hunted on Ebay in the hope that just maybe, someone else remembered a favourite childhood toy. Did it exist? What happened to it all?
I can assure you it did indeed exist. Struts educational toy was a big part of my childhood. In fact, the company that manufactured Struts (Motley Manufacturing) bought my father's business when I was a kid. Myself and couple of other employees children were used as the models for the box sets. Yes, that's right, I actually appear on a box of Struts. Sadly my mint empty boxes that I was given as a kid have disappeared, victim of many moves and teenage disinterest. The toys themselves probably went at a garage sale or as a donation at some point. So now I'm seeking them out again.
In the gallery below are the only photos I've been able to find of this toy. Including some photos from Cosmichobo whose post on an Apple forum caught my eye. He has amazingly been able to find an unopened box, still in it's shrinkwrap and generously photographed it for this post. The child on that box is not me, that hunt continues. Update – I've now been able to find and purchase a small number of struts pieces and amongst those was an original booklet. In that booklet is a picture of the author as a young child! The gallery has now been updated with new photos showing struts in detail.


Struts Educational Toy

Struts Educational Toy. Struts is a plastic construction toy that was aimed at the educational ...

See images »


So, what awards did Struts win? According to the box Struts won the following design awards:
1978 Best Educational Toy
1978 Best Designed Toy
1978 Australian Toy of the Year
1980 Best Plastic Toy
1981 Best Plastic Toy
1981 Australian Toy of the Year
1982 Best Plastic Toy
1982 Australian Toy of the Year
These awards were awarded by the Australian Toy Manufacturers Association. The Industrial Design Council of Australia also awarded and Australian Design Award.
What happened to the Struts name and Trademark?
According to Trademarkia the Struts trademark was cancelled in 1988.
On Thursday, October 19, 1978,  a U.S. federal trademark registration was filed for STRUTS by Motley Manufacturing Agencies Pty. Ltd., Parkside. The USPTO has given the STRUTS trademark serial number of 73189909. The current federal status of this trademark filing is CANCELLED – SECTION 8. The correspondent listed for STRUTS is Oldham, Oldham, Hudak & Weber of 627 First National Tower Bldg., Akron OH 44308, . The STRUTS trademark is filed in the category of Toys and Sporting Goods Products . The description provided to the USPTO for STRUTS is Toys Specifically Multitudinal Part Assembly or Construction Toys.
But what WAS Struts?
Struts was building blocks. About the size of traditional wooden block, but hard plastic cubes and rectangles. These had grooves down each side which thin plastic 'Struts' could be slid into, allowing the blocks to lock together. Special connectors also allowed wheel blocks to be used, and these could spin freely. In fact two types of wheel blocks were included. Smooth wheels, and slotted wheels which really looked like plastic pineapple slices. Struts also sold a motorised block! This rather large blue plastic slab was about the size of a thick paperback and had a fairly powerful electric motor in it which could be slotted into any other block.
From memory, here's my list of parts. Updated with a couple of blocks I've spotted in the photos but had forgotten. If you remember any others please comment on the article and let us know. and another update, after speaking with my father and looking at more photos I can add rubber 'tyres' to the list and brown axles.
Large Block (multiple colours)
Small Block (multiple colours)
Slotted Wheel (multiple colours)
Rubber tyres for slotted wheels (Like a thin ridged rubber belt)
Smooth Wheel (multiple colours)
Brown Flexible Strips, Short and long
White Rigid strips, Short and long
White 'right angle' connectors
Brown 'right angle' connectors
White Wheel hubs
Brown wheel hubs
White Center Axles
Flat Blocks (multiple colours)
Long Slotted Girders (multiple colours)
Short Slotted Girders (multiple colours)
Blue Motor Box
Flat Sheets (Flexible sheets about the size of a paperback)
Crystal Disks (same dimensions as the wheels but a slotted disk)
The contents of 'Box 2' can be seen in this picture.
The booklet that came with some sets of Struts shows a number of different 'packs' that were available. The Beginners Pack, Pack 1 (That's me in that photo!), Bucket Pack 2, Pack 3, and Bucket Pack 4. The booklet also shows a selection of spare parts that could be purchased and has the following blurb:
Struts is a new construction toy manufactured for the world market. It has tremendous scope when compared with other construction toys currently on the market as it caters for a wider age range. It does not require a high degree of co-ordination or precision skill to assemble, yet has more flexibility since it has literally an infinite number of configurations. The only limitations are the imagination and ingenuity of the user. Whilst Struts can be used to create the more conventional artifacts in our environment, such as cars, planes and windmills, etc., it can also reproduce curves and construct geometrical figures. The plastics used have high strength properties, their surfaces resist scratching and use completely safe non-toxic organic pigment colouring. All parts of the toy are virtually 'unbreakable' and may be moulded in any colour. Each part is designed such that either a child or an adult may grasp it comfortably.
Struts Educational Toy was also marketed and sold in New Zealand where is may have been manufactured under licence. It was sold by Target in Auckland for Bing Harris Sargood LTD.
And that's about it for now. That's pretty much all the information I've been able to gather about Struts. I hope this article proves useful for someone who has a box at home and is wondering just what it is and where it has gone.